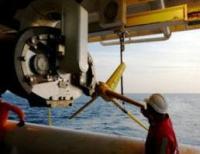 CGGVeritas has begun acquiring the Tabasco 3D multi-client survey near the Kuparuk and Alpine oil fields on Alaska's North Slope. The program has received high industry prefunding. The company is deploying two of its proprietary high-end acquisition technologies for the first time on the tundra to acquire the 133 square mile survey.
The seismic data will be imaged with anisotropic prestack depth migration at the CGGVeritas Calgary processing center. The first migrated data is scheduled to be delivered in July 2012. Interested parties may request a data viewing through the contacts listed below.
CGGVeritas has acquired proprietary surveys on the North Slope since 2001. The Alaska crew has the highest calibre professionals in the industry and deploys the latest acquisition and environmental technologies available.
Luc Schlumberger, Executive Vice President, Multi-Client & New Ventures, CGGVeritas, said, "We are proud to see our Arctic crew return to the North Slope this winter to acquire our first multi-client survey in Alaska. Through our long-term commitment to the Arctic and aggressive summer upgrade and maintenance programs, we have the best equipment and expertise to safely deliver superior images of the subsurface to our clients, continuing our track-record of quality and environmental leadership over our last ten years of operations in the Arctic."