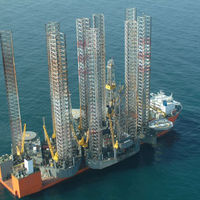 Lamprell has received a contract award from Compañía Perforadora Mexico S.A.P.I. DE C.V. (PEMSA), a subsidiary of Grupo Mexico, for the construction and delivery of Hull 108, a completely outfitted and equipped, Friede & Goldman designed, Super M2 self-elevating Mobile Offshore Drilling Platform.
The rig is designed to operate in water depths of up to 300 feet and will have a rated drilling depth of 30,000 feet.
Hull 108 was under construction by Maritime Industrial Services Co. Ltd. Inc. ("MIS") at the time of its acquisition by Lamprell in July 2011.
Lamprell will complete the fabrication of the jackup rig in its Sharjah yard, with delivery scheduled for June 30, 2012. Upon delivery of the rig, Lamprell will repay a portion of the debt raised for the purposes of the MIS acquisition.
"We are delighted to be announcing today's contract win with PEMSA, a highly valued new client for the Lamprell group," said Nigel McCue, Chief Executive Officer, Lamprell. "The Gulf of Mexico represents an exciting market for Lamprell and we look forward to working with Pemsa on the successful delivery of this rig."