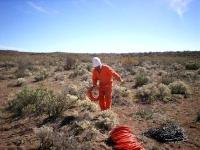 Americas Petrogas reported that its Los Toldos Este vertical well has reached total depth (TD) of approximately 3,250 meters. The well was cored during drilling and extensive logging operations are currently underway. Americas Petrogas intends to case the Los Toldos Este well, which principally targets the Vaca Muerta shale formation in the Los Toldos blocks (163,500 gross acres or 255 sections or 660 square kilometers) located in the Neuquen Basin of Argentina. Other zones of interest include the Mulichinco, Tordillo and Quintuco formations. Americas Petrogas is the operator of the well.
Americas Petrogas intends to conduct detailed study and lab analysis of the cores, logs and rock cuttings to determine optimum zones for testing and completion.
Mr. Barclay Hambrook, President and CEO of Americas Petrogas said, "We are pleased with the progress being made on this well, having reached TD within 55 days. We look forward to the next step involving petrophysical and geochemical analyses."
This is the first well within the farmout agreement between Americas Petrogas and ExxonMobil Exploration Argentina.