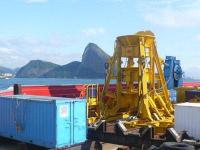 The first offshore pile installation operation with the StabFrame, a newly developed subsea pile-stabilising template, has been successfully completed in the Waimea field in Brazil's Campos Basin. Jointly developed by Large Diameter Drilling Ltd. (LDD) and MENCK GmbH, the StabFrame stabilises piles in all depths required for underwater pile driving.
The operation was carried out in association with a contract that was awarded to MENCK by Wellstream International Ltd. The contract required MENCK to drive ten 84-inch mooring piles in water depths of up to 140 metres using an MHU 500T hydraulic hammer. This project saw the first de-ployment of the StabFrame by LDD and MENCK, both of which are members of the Acteon Group, with market leading capabilities in its Foundations and Moorings operating division. The piles were required for installation of an FPSO mooring system on the OGX Petroleo e Gas development in the offshore Waimea Field.
Steered via a work-class remotely-operated vehicle (WROV), the StabFrame reliably stabilizes a vertical pile in varying soil conditions. Rather than relying on a release mechanism attached to the pile, the StabFrame's hydraulic release mechanism allows the pile to be driven further into the seabed, if required, before opening the frame. In this way, the StabFrame can adjust to unpredictable and challenging seabed conditions.
Continuous deployment Despite strong currents, estimated at times to be more than 2.5 knots, the project finished without incident or injury and ahead of schedule. Despite initial low pile penetration (under its own weight), with its hydraulic release mechanism, the StabFrame made stable penetration of the mooring piles possible.
"The operation clearly demonstrated that the StabFrame can reliably accommodate unpredictable soil conditions," said Thorsten Sprunk, project manager for MENCK. LDD and MENCK are currently preparing for their next joint pile-driving programme, which involves 160 monopile foundations at the Gwynt y Môr wind farm project off the coast of Wales.
The range of services provided by LDD and MENCK GmbH supports the Acteon Group's commitment to linking subsea services across a range of interconnected disciplines.