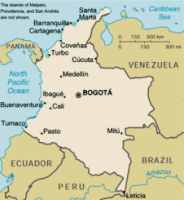 Pacific Rubiales Energy report the discovery of natural gas and condensate in the Cotorra-1X exploration well, drilled on the Guama Block in the Lower Magdalena basin.
The Company has 100% working interest in the block and is the operator.
Ronald Pantin, Chief Executive Officer of the Company commented: "this is an important exploration discovery for Pacific Rubiales and demonstrates the potential of both the Guama block and Lower Magdalena basin where the Company has a large exploration acreage position and is looking to increase its gas reserves to support its initiative to develop an LNG export market in the future".
The Cotorra-1X well was drilled as an exploratory well after an earlier exploration success on the block, the Pedernalito-1X well drilled in 2010. The well targeted Porquero Medio sands and silts of Miocene age, a low-permeability play successfully tested by Pedernalito-1X. Cotorra-1X was drilled to a total depth of 7210 feet in mid-January. The petrophysical evaluation showed a total of 40 feet of net pay, with average 20% porosity.
The well was perforated only in the deeper pay zone, across two intervals; leaving overlying pay zones untested for further evaluation.
After clean-up while flowing through a 1/2" choke, Cotorra-1X reached a maximum gas flow rate of 7.5 MMcf/d and 370 bbl/d 56°API condensate, followed by a three-stage isochronal and one extended flow test through 12/64" choke which flowed at 2.6 MMcf/d and 121 bbl/d condensate at 3137 psi well head pressure.