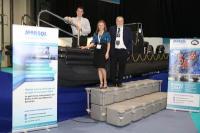 Marsol International Ltd, has introduced Rhino Craft, a multi-purpose workboat tailored to meet the requirements of specific customers and challenging sites.
Working with Rhino Marine, Marsol International aims to introduce the workboat to the oil and gas industry. The craft fulfils a number of roles including support vessel for maintenance operations, a robust replacement for small inflatable boats and the ability to assist with firefighting duties.
Rhino Craft can also be used as a Dive SRP (Scuba Replacement) boat, which Mike Young, Managing Director of Marsol International, believes could be a game changer for the industry especially as it does not have the vulnerability of other smaller craft in this category and has significant advantages.