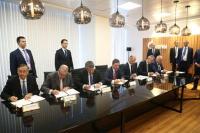 As part of the Eastern Economic Forum, Alexey Miller, Chairman of the Gazprom Management Committee, Kurt Bock, Chairman of the BASF Board of Executive Directors, Klaus Schaefer, Member of the Management Board of E.ON, Pierre Chareyre, Executive Vice President of ENGIE, Rainer Seele, Chairman of the Executive Board of OMV, Ben van Beurden, Chief Executive Officer of Royal Dutch Shell signed in Vladivostok today a Shareholders Agreement to construct the Nord Stream II gas pipeline for boosting gas supplies to the European Union.
The project will be implemented by the New European Pipeline AG joint venture. According to the document, Gazprom will own a 51 per cent share in the joint project company, while E.ON, Shell, OMV and BASF/Wintershall will have ten per cent each, and ENGIE – nine per cent.
The Nord Stream II project envisages the construction of two offshore strings with an aggregate annual capacity of 55 billion cubic meters of gas, to be laid from Russia to Germany across the Baltic Sea. The project will use the proven experience of Nord Stream with its safe and reliable gas infrastructure.