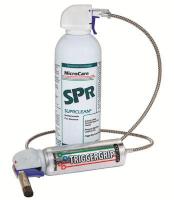 MicroCare® is continually expanding their product range to focus on the many markets served. This includes mining and extraction. The Offshore Europe exhibition taking place in Aberdeen, Scotland will be a perfect platform to introduce a number of lines from the company's portfolio.
Already servicing a number of companies within the mining and extraction industries, including a large multinational oil-field support company, MicroCare® is looking to introduce new customers to its latest product lines when it joins their distributor, Exmel Solutions at Offshore Europe from 6 – 8 September.
One product, which is already extensively used, is SuprClean™ defluxer and degreaser. Used on down-hole logging tools, SuprClean™ is currently being used off-shore in the North Sea, the Gulf of Mexico oil rigs, Canada's shale fields and in South East Asia. Non-flammable, ozone-friendly and easy to ship and store, the product is fast becoming a market-leader.
MicroCare® provides a variety of products to the oil-field services industry, such as cleaning and repairing down-hole oil logging tools that measure, track and monitor the performance of oil wells. MicroCare® contact cleaners are used in mining applications where flammability concerns are significant. The expertise of MicroCare® in formulating, engineering and packaging of ultra-clean chemistries provides increased confidence that the extraction data is accurate and the workers are safe.