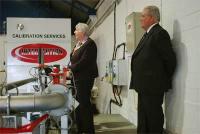 Angus Provost, Ruth J Leslie Melville MBE officially opened a new Flow Calibration Centre at the headquarters of Intervention Rentals, the Montrose-based oilfield services company.
Provost Leslie Melville said,"This equipment and technology is unique not only to Angus but to the North East and the Oil Service Sector in general. This is a good news story for the county, sending out a positive message that Angus has much to contribute to the oil industry. It will entice oil companies to take a hard look at the many Angus firms who can offer invaluable support, experience and expertise to the offshore sector."
David Laing, Intervention Rentals Managing Director commented,"Our new flow meter calibration system has been designed in conjunction with, and commissioned by TUV NEL, the custodians of UK national standards for flow measurement. The system has a verifiable accuracy of better than 0.25% for flow meter calibration. Higher accuracies will be achievable as the performance history develops.
Good quality local jobs have already been created with the introduction of this facility and, as we expand, additional personnel are likely to be needed here in the North-East. Accurate and dependable flow measurement is crucial in the oil and gas industries for commercial, regulatory, environmental and safety reasons. An efficient and accurate calibration system, such as ours, can offer substantial cost-savings to the industry."