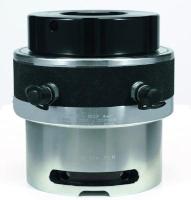 It is of utmost importance for site technicians to accurately and safely apply the correct load requirement on each bolt when tightening a joint. If the application has been unequally loaded then the resulting condition could be unreliable, giving rise to a weakened structure or leakage if the application is pressure containment. The possible failure of the 'joint' may not reveal itself for some time, but may do so under 'loaded' conditions when its performance and reliability are most critical and demanding.
The innovative features of the SRT range of "Topside" hydraulic bolt tensioners offer improved performance and reliability in meeting these requirements. They reduce operator fatigue, improve productivity whilst at the same time enhancing safety. The automatic piston return yields a significant amount of saved time through reducing de-pressurization and tool re-set time (around 40% higher productivity). Work cycle is therefore reduced, operation and tool indexing is more productive (over manual tensioners) and operators are less fatigued. The SRT range of tensioners offers an unparalleled guarantee of both reliability and durability.
SRT hydraulic bolt tensioners are designed to have all their components protected from environmental debris and conditions; operation and maintenance costs are consequently considerably reduced over the life of the product: - their integrated misalignment compensator allows a stud deviation of up to 5 degrees. This avoids situations which unfortunately are not un-common and which have serious consequences on the accuracy and tool life expectancy.
a piston stroke limit indicator allows the user to gauge the tensioning progress across the set of tools so as to keep their synchronized operation. Should a tool be taken to the end of its stroke, there is a locking function which prevents the piston from being over-extended, which would lead to the seal failing and possible tool damage. Besides the savings which it leads to, this feature also protects the operator from any high-pressure oil discharge. SRT hydraulic bolt tensioners are therefore superior by design, truly productive and safe tools, field proven and the choice of technicians or contractors who rely on quality, reliability, productivity and safety for their core business as well as their own reputation in the market.
The SRT has 7 standard models (0-7) in the range covering ¾ - 4 inch (M20-100), with 4 tools covering the popular 1 to 3.1/2 inches (M24-M90). Tools have a 10mm maximum piston stroke ('0'model - 8mm) and operating at a maximum pressure of 21,750psi / 1,500 Bar. Larger sized or special application tensioners are available on request.