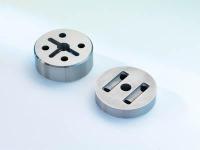 Total Carbide is launching a new process that produces tungsten carbide components with complex internal forms for use in harsh environments such as valves operating in high-pressure, highly abrasive or corrosive environments.
IntraformTM will enable the production of 'chambers' in tungsten carbide that cannot be produced by any other standard production method and is being unveiled to the oil and gas industry at Offshore Europe 2011 (6 – 8 September 2011) in Aberdeen this week.
The process has been developed and refined by Total Carbide's research and development team over several years. It allows the creation of complex internal wear critical forms as required in linear and rotary valves, which can last up to ten times longer than equivalent steel parts. The tungsten carbide components are manufactured as one piece eliminating the potential of leaks therefore allowing higher pressure liquid flow rates.
The resulting improvement in severe service valve performance and reliability will significantly reduce the impact and cost of downtime caused by part failure and maintenance.
The process has been independently tested by leading global valve manufacturers to industry standards including a 25,000 cycle qualification test at 760 bar satisfying leakage testing according to API 6A / ISO 10423. Products have also been proof tested at 1140 bar as part of FAT (Factory Accreditation Testing) without showing signs of failure, and have successfully undergone a 90 day corrosion test. These trials have proven IntraformTM to be acceptable for harsh subsea environments.
Andy Hunt, sales director at Total Carbide commented: "The manufacture of a one piece tungsten carbide component with complex, high-performance internal chambers has been a challenge for the flow control industry for many years. The IntraformTM process allows us to create components with difficult internal geometries that have the durability and wear-resistance of tungsten carbide and the ability to process abrasive and corrosive fluids. This capability will open up significant new possibilities, giving engineers unprecedented flexibility for the design of flow control components.
"Offshore Europe gives us an opportunity to showcase IntraformTM to the oil and gas industry and directly demonstrate its performance and financial benefits."