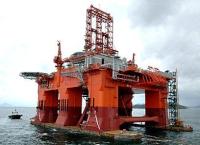 Norway-based rig contractor Seadrill Ltd. has posted a net loss for 2008 of $164.4 million, or $33 million better than forecast, just as rig-company fortunes face uncertain times.
While, a message to shareholders said the company was embarking on a new era — one where cash was expected to "significantly exceed" spending — deepwater is seen providing future rig buoyancy.
Its new deepwater rigs now entering service, Searill earnings "from 2009" are expected to show "significant growth". When the West Orion and West Gemini rigs arrive in 2010, cash from existing contracts is seen outpacing capital expenditures, interest and debt repayment.
In fact, company managers see more deepwater drilling, as "The depletion rate for existing fields has reached unprecedented levels."
But big dividends until then would, the company warned, depend on the kind of asset power- financing Seadrill owner and Norwegian shipping magnage John Fredrikson is famed for.
Beyond dividends, shareholders were told oil-company spending cuts and the resultant trimmed supply of oil and gas short-term could still create "a better long-term situation" for drilling contractors.