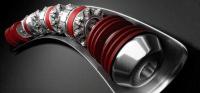 TDW Offshore Services has completed a pipeline pressure isolation operation in Qatar on behalf of a major supplier of liquefied natural gas (LNG).
The operation took place at the customer's LNG complex in Qatar. Natural gas is transported from platforms offshore Qatar through seven LNG trains to this complex. In order to facilitate replacement of a defective emergency shutdown (ESD) valve on a primary export line, pressure isolation services were required. The 38-inch diameter pipeline runs from two wellheads in the offshore natural gas condensate field to the onshore LNG processing facility.
To isolate the pipeline section located upstream of the designated ESD valve, TDW launched two 38-inch SmartPlug® isolation modules using an existing pig-receiving trap located onshore at the receiving end of the export pipeline. Using its remotely-operated SmartTrack™ tracking and pressure-monitoring system, TDW monitored the location of each module as it travelled 600 meters along the pipeline route, as well as the pressure of the pipeline. One module was positioned upstream of the designated ESD valve, and the other downstream of the valve. The TDW team then set the modules and safely isolated the affected section so that the modifications on the ESD valve could be safely carried out.