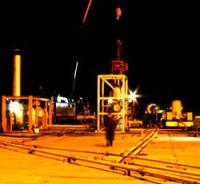 Aurelian provided the following operational update.
Highlights First Siekierki Multi Fracced Horizontal Well (MFHW) Trzek-2 successfully completes horizontal section encountering 1378.5 meters of Gas. Now ready for fracture stimulation Horizontal section successfully completed encountering 1378.5 meters of Rotliegendes Gas with potential sweet spots and porosities of up to 15%; Well now ready for up to 10 stage fracture stimulation; Ongoing severe weather expected to delay flow test to January; Trzek-2 still expected to complete within Budget; and Trzek-3 expected to spud early January. First Bieszczady well drilling ahead with Target Depth ("TD") expected by end February 2011 Currently drilling ahead at 2700 meters targeting a maximum TD of 4800 meters by end of February 2011; and Welltargeting prospective resources of up to 100 million barrels (gross) of oil in Carpathian Thrust Fold Belt Core Area. Siekierki Gas Processing Facility continues to progress Final contract close to being agreed for major Long Lead Nitrogen Removal Unit ("NRU") required to treat Siekierki gas to sales quality; and Construction start date of early 2011 and first gas production target of end of 2011. 1,455 km of 2D and 3D seismic to be acquired across eight surveys in Core Areas in 2011 Partner budgets agreed for significant seismic investment in Core Areas in 2011; and Surveys aim to increase the size of Siekierki Tight Gas project, and in the Carpathian Thrust Fold Belt, to firm up 2011/12 drilling prospects and identify new drilling targets for 2013 and beyond
First Siekierki MFHW Trzek-2 successfully completed and now ready for up to 10 stage fracture stimulation The horizontal section of the Trzek-2 well in the Siekierki Tight Gas project has been completed and, after de-mobilizing the rig, the well will be ready for up to 10 fracture stimulations to be carried out by Halliburton. The horizontal section encountered a total of 1378.5 metres of Rotliegendes Gas in 1417.5 meters drilled with porosities up to 15%. Although not yet flow tested, variations in gas shows and drilling rates were encountered throughout the sand and these are thought to indicate the occurrence of potential sweet spots. Completion of the horizontal section was delayed by approximately two weeks as a result of continuing severe weather in Poland and some equipment failures. The equipment failures have now been resolved and the experience from this will be taken forward to Trzek-3. Given the forecast of ongoing severe weather in the region, the 10 fracture stimulations will be delayed until early/mid January as the 2000m3 of fresh water used in the process has to be heated and mixed with chemicals to achieve the required properties and it is desirable to undertake this process when ambient temperature is above freezing. This delay means that the flow test will not commence until mid/late January. Notwithstanding this delay, it is expected that the cost of Trzek-2 will still be within the budget of €18.2 million.
The IDM 2000 rig is now being demobilized to move it to the Trzek-3 well-site with a view to spudding the second Siekierki MFHW in early January.
Rowen Bainbridge, Chief Executive commented, "Successfully completing the horizontal section and encountering such an extensive section of gas is a very good outcome in this first well in our 346 bcf Siekierki Tight Gas Project. While the severe weather in Poland will delay the results of the flow test for approximately four weeks, we are nonetheless very pleased to be in a position to be able to finish this first well on budget.
I am also pleased with the progress of the first of our three wells in the highly prospective Bieszczady block.
Our 2011 seismic program covering 1,455 km is extensive and, as well as firming up locations for our 2011 and 2012 drilling program, it is also hoped that it will identify further prospects for drilling in 2013 and beyond.
There are a number of other activities ongoing in our business and I look forward to bringing you further updates on these in the near future. 2011 is already promising to be another exciting year for the Company."