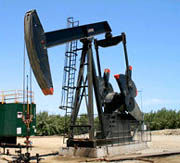 David Dyck, President and Chief Operating Officer of Ivanhoe Energy Inc. and Gerald Moench, President of Sunwing Energy Ltd., declared another natural gas discovery in China - the second deep discovery in less than one month at the company's Zitong exploration block in the Sichuan Province. Sunwing Energy is a wholly-owned subsidiary of Ivanhoe Energy.
Zitong-1 gas discovery in Xu-4 formation The Zitong-1 well flowed at a restricted rate of approximately 750,000 cubic feet per day, through the use of a small three millimeter choke, for testing purposes only. The well was perforated in the Xu-4 formation, exposing 33 meters of pay, and a test was conducted in this zone following an initial 24-hour build-up period. The well will be shut-in to record reservoir pressure build-up and then the Xu-4 formation will be isolated to allow perforating and testing of the shallower, Xu-5 formation.
Based on log interpretation, the Xu-5 characteristics are similar to conventional reservoir sands with porosity in the 10 to 14% range. It is expected that the Xu-5 will flow at significantly higher rates than those achieved in the Xu-4 test. Given the stacked nature of the zones, they potentially could be produced on a co-mingled basis which would dramatically improves single well rates of return. Project returns should also benefit from the short distance to tie-in new wells to existing gathering systems together with the favourable natural gas pricing market in China. Further testing and appraisal will determine the ideal development plan.
'The results so far at Zitong-1 have exceeded our expectations and we look forward to the data from the shallower Xu-5 formation,' said Mr. Dyck. 'This second discovery confirms a significant play for us in this block and, when combined with our previous discovery at Yixin-2, represents a major catalyst for adding shareholder value.'
'We look forward to production and cash flow in 2011 and further development activity in this area in the very near future,' added Mr. Dyck.
The Xu-4 and Xu-5 formations are also excellent candidates for horizontal drilling and multi-stage fracture stimulation which is expected to have significant positive impacts on flow rates and ultimate recovery factors. These unconventional techniques have become common place in the development of significant tight gas reservoirs in North America such as the eastern United States' Marcellus shale and north east British Columbia's Montney gas plays. By applying these techniques, Ivanhoe Energy and Sunwing intend to be at the forefront of natural gas development in China as it operates under the terms of its production sharing agreement.
In addition to the Xu-4 formation, the Xu-2 zone at the Zitong-1 well was perforated earlier and an inflow test analysis was performed. The test indicated the Xu-2 was too tight to achieve commercial rates without additional stimulation. This zone is productive in other third-party wells in the area and further appraisal will be required to determine the best way to access its potential. This appraisal work will be carried out as part of Sunwing's future work program. It is also believed that the Xu-2 could be developed using multi-stage horizontal fracture stimulation techniques. These techniques have largely reversed the downward trend in North American conventional oil and gas production and have opened vast areas to commercial development. In China, these technologies have already been successfully implemented by PetroChina and other operators. Sunwing will build off this technology to develop its Zitong Block.
In general, the Zitong Block consists of deep, high pressure reservoirs that are classified as 'tight gas'. The permeability and porosity of the sandstones encountered in the Yixin-2 and Zitong-1 wells fall within the parameters of current, highly productive commercial tight gas projects in North America. Additional planning and operational analysis will be required to develop an appraisal program leading to a full development plan which will be submitted to PetroChina.
Testing update on earlier Yixin-2 gas discovery On December 21, 2010, Sunwing announced a natural gas discovery at its Yixin-2 well, which tested at initial production flow rates of up to 13 million cubic feet per day. Subsequently, after a short shut-in period, the Yixin-2 well was flow tested at a lower, controlled rate of 1.25 to 1.5 million cubic feet per day for a 48-hour period and then shut-in for a 21-day pressure build up period in order to obtain critical pressure data. The flow rates of the Xu-4 formation in this well are consistent with what is observed in tight, fractured sandstones that rely on stimulation to generate commercial flow rates.
Sunwing is the operator of the 659,840-acre (1,031 square miles) Zitong exploration block in Sichuan, and holds a 90% interest in a Petroleum Contract with PetroChina Company Limited. Mitsubishi Gas Chemical Company of Japan holds the remaining 10% interest.