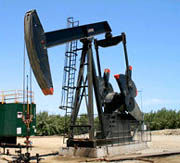 Ivanhoe reported that positive gas flows have been recorded during testing operations on the Xu-5 formation of the Zitong-1 natural gas discovery well in China's Sichuan Province.
Recent testing in the Xu-5 formation exposed up to 54 meters of pay, in five sets of perforations. A pressure build-up was recorded while the well was shut-in for a 24-hour period. The down-hole recorders and perforating system were recovered, following which the well was configured for a small acid stimulation to clean-up the perforation and near-by reservoir. The test results indicated Xu-5 reservoir pressure of 10,500 psi which is considered to be very over pressured and an encouraging indicator of reservoir quality and performance.
Subsequent testing recorded flow rates of 750,000 to 2,000,000 cubic feet a day through a three to four-millimeter choke at pressures up to 3,000 psi. During testing operations, hydrate issues were observed down hole and at the surface, which could account for some of the variation in flow rates. Bottom-hole recorders are being recovered and will be analyzed to assist in reservoir modeling and planning for a vertical well fracture stimulation program.
Follow-up wire-line production-logging surveys have indicated that most of the gas flow came from the upper 18 meters of perforations. Preparations are underway for a second acid stimulation over the four sets of perforations in the lower 36 meters, which will be isolated from the top 18 meters that have undergone initial testing. The lower sets of perforations will be flow tested before the well is set up for a vertical fracture stimulation of the Xu-5's entire 54-meter perforated interval. Test results after the fracture stimulation will be analyzed to assist in planning a future horizontal well which will target the Xu-5 formation.
The testing programs on this well encountered unexpected third-party delays while waiting for the necessary equipment to complete the work; demand for well service equipment in the Sichuan Basin is steadily increasing along with the demand for natural gas.
It has been recently reported that major multi-national energy companies have high expectations for unconventional gas in China, including tight-gas and shale-gas, and they are ramping up their investment and activity in the region. This activity has put some pressure on the timely availability of equipment in the area. Potentially adding to this demand for equipment, China is reportedly in the process of drafting policies and incentives to encourage development of unconventional gas plays in support of its stated goal to increase the use of cleaner-burning fuels.
In January 2011, Ivanhoe Energy reported that Zitong-1's deeper Xu-4 formation had flowed gas at a restricted rate of approximately 750,000 cubic feet per day, through a three-millimeter choke, during limited testing. The Xu-4 zone was then isolated to allow perforating and testing the shallower Xu-5 formation. Additional Xu-4 evaluation in the Zitong-1 well will be scheduled after completing all testing and evaluation of the Xu-4 fracture stimulation at the Yixin-2 well.
"We continue to make excellent progress at our two new natural gas discoveries and look forward to the results of our upcoming fracture stimulation programs," said Ivanhoe's President and Chief Operating Officer David Dyck.
"The Zitong Block consists of deep, high-pressure reservoirs that are classified as "tight gas". The permeability and porosity of the sandstones encountered in the Zitong-1 and Yixin-2 gas discoveries fall within the parameters of current, highly productive, commercial tight-gas projects in North America. The key difference and positive indicator is that we are obtaining significant flow rates from these wells prior to fracture stimulation. The planned stimulation programs have the potential to significantly increase these early flow rates, providing critical information to better understand reservoir performance, including the scale of the reserves," added Mr. Dyck.