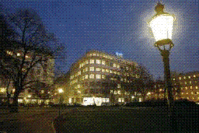 OMV has discovered gas on the North West Shelf of Australia in the Zola-1 exploration well. This represents one of the largest gas discoveries by the company. Zola-1 is located in the WA-290-P exploration permit and is around 100 km from the Western Australian coast. The discovery well Zola-1 and the subsequently drilled sidetrack appraisal well Zola-1/ST-1 have confirmed the existence of sandstone layers with 130 m of net gas pay in an area south of the giant Gorgon gas field. New 3D seismic data will be acquired to further assess the potential of the discovery.
The sidetrack appraisal well to the original Zola-1 discovery well was drilled down to a total depth of 4,713 m (true vertical depth). An extensive wireline measurement and pressure testing program confirmed the presence of gas within several high quality sands of the target Triassic Mungaroo Formation. The well and sidetrack were drilled in a water depth of 285 m and encountered 130 m of net gas pay. Both will be plugged and abandoned as per plan.
In order to further assess the development potential of Zola, OMV and its partners in WA-290-P, Apache (operator), Santos, Nippon Oil Exploration and Tap Oil, have agreed to acquire a new high resolution 3D seismic survey over the permit, which is likely to commence mid 2011.
Jaap Huijskes, member of the OMV Executive Board responsible for Exploration and Production (E&P), stated,'Zola-1 is one of OMV's biggest gas discoveries and is the result of a successful and safely carried out exploration and appraisal drilling campaign. We are very proud of OMV's exploration activities in Australia, which have culminated in this significant discovery on the North West Shelf. The next step will be to further appraise the gas discovery, including the acquisition of a new 3D seismic survey."
Equity holders in the WA-290-P Joint Venture are: OMV Australia: 20% Apache (operator): 30.25% Santos: 24.75% Nippon Oil Exploration: 15% Tap Oil: 10%