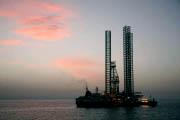 RWE Dea Egypt has made a gas discovery in its own operated North El Amriya concession. The successful testing of the reservoir opens chances of further future discoveries in the license.
The NEA 3x discovery is located in the offshore North El Amriya concession, some 40 kilometers North of Alexandria. The well was drilled to a total depth of 3,055 meters and encountered gas in a lower Plicene sand in the Kafr El Sheik formation. The well was sidetracked to a total depth of 2,642 meters where a conventional gas filled sand channel was encountered with an additional unconventional reservoir above.
A drill stem test was carried out successfully on the unconventional reservoir with flow rates of up to 14 mmscf/d with the objective to prove the productivity in this kind of reservoir.
"The successful testing of the unconventional reservoir gives RWE Dea the opportunity to expand its activities in this concession on a new play with chances for future discoveries," said Ralf to Baben, Chief Operating Officer of RWE Dea AG. The North El Amriya concession is operated by RWE Dea with a 100% working interest.