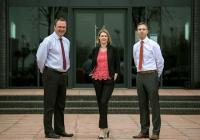 SPECIALIST SAP consultancy Absoft is expanding its leadership team with the appointment of three new business unit leaders through internal promotion.
Scott Simpson, 35, Debbie Mackenzie, 45, and Stan Cawsey, 47, make the step up as Absoft managing director Ian Mechie and operations director Don Valentine focus on their roles as overall heads of the company.
Mr Simpson has been appointed director of the oil and gas business unit, while Mrs Mackenzie becomes director of Absoft's public sector unit which includes the local authority and higher education sectors, and Mr Cawsey leads the manufacturing team.
Ian Mechie, managing director, said the appointments are a key element of Absoft's growth plan, following the significant success the company has achieved in the last three years during which it has grown from 68 to 126 employees.