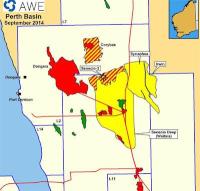 AWE Limited has been advised by the Operator of the BassGas Project, Origin Energy Limited, that the heavy lift stage (Phase 1b) of the Bass Gas Mid Life Enhancement (MLE) project has been completed successfully.
In good weather conditions the heavy lift crane vessel, the 'Sapura Acergy 3000', successfully installed the gas compression and condensate pumping modules onto the Yolla platform. Both lifts were performed as planned, safely and without incident, and the crane vessel has been released.
Tie-in and commissioning of the modules is scheduled to commence in mid-2015, after the planned development drilling activity is completed. The modules are not critical to current operating requirements and are expected to be commissioned in FY 2016-17.