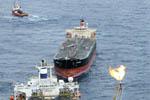 AWE Limited, as Operator of Petroleum Mining Permit 38158 offshore Taranaki, New Zealand, reports that the Oi-2 exploration well reached TD at a measured depth of 3,908 metres at 20:45 hours (8.45pm) NZDT on Monday 7 July 2014.
The well intersected the primary target Kapuni F10 sands and underlying secondary targets. No significant oil shows were encountered and real time well data indicated that the reservoir is water bearing. Preparations are being made to plug and abandon the well.
The Oi-2 exploration well is located approximately 12 kilometres northeast of the Tui Area Oil Fields in water depth of approximately 120 metres.