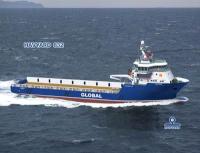 The Havyard Group has signed a contract for delivery of a PSV vessel to Global Offshore with option for one further delivery in India. Since 2005 contracts to the value of NOK 2 billion have been signed with the Indian shipping company.
This will become offshore vessel number 7 and 8 from Havyard to Global Offshore (formerly Garware). Five vessels have already been constructed and delivered from Havyard Ship Technology in Leirvik, Norway. The Fosnavåg-based company is also in the middle of constructing a vessel of a Havyard 832 design, due to be delivered from the Leirvik shipyard in March next year.
And just before last weekend the latest contract for a vessel of a Havyard 832 design to be delivered in July next year, was signed to the value of NOK 270 million. There`s also an option for delivery of a vessel of the same design in March 2014. The 8 vessels have a value of around NOK 2 billion.