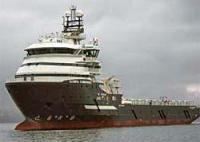 Sea trials testing the sophisticated Integrated Control System (ICS) developed by Kongsberg Maritime for Olympic Commander, a new Multi Purpose Supply Vessel (MPVS) built at Kleven Yard in Norway have been successfully completed.
The ICS aboard Olympic Commander features an innovative new one touch control system for Ballast & Cargo tank operations as part of the KONGSBERG K-Master workstation on board, which also integrates KONGSBERG K-Pos and C-Joy Dynamic Positioning, K-Thrust thruster control and K-Chief automation, all of which can be controlled by a seated operator.
"Olympic Commander is a significant demonstration of the possibilities of the K-Master aft-bridge workstation, as it features for the first time our new type of integrated operation interface and touch screen based automated Ballast & Cargo system," says Simen Wadd Johansen, Project Manager, Kongsberg Maritime.