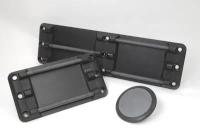 Cathelco, manufacturers of ICCP hull corrosion protection systems for ships and FPSOs, have launched a new generation of anodes which combine higher performance with a number of unique features to simplify installation.
The new C-Max anodes are available in a range from 50 amps to 300 amps covering the requirements of all types of vessels from small ferries and workboats to the largest VLCCs and container ships.
The anodes are available in linear or disc designs. In the case of the linear anodes, current is emitted from one or more tubular elements (tubes) produced from titanium with a coating of mixed metal oxide. These are mounted on an integral backing shield made from strong, but lightweight ABS plastic.