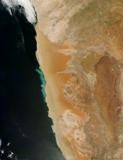 Chariot Oil & Gas Limited reports an increase of a further 700 million barrels from 1.940 to 2.631 billion barrels, up 36%, in its estimate of gross unrisked mean prospective resources in its Northern licence offshore Namibia. This increase has resulted from continued technical work undertaken on the 3D seismic data acquired across these blocks which has also led to a significant improvement in the chance of success. Chariot?s gross mean unrisked prospective resource volume now totals 13.9 billion bbls (10.4 billion bbls net to Chariot).
Concurrent to the work which identified the Nimrod prospect, a mega structure located in block 2714A with an attributable gross mean prospective resource potential of 3.7 billion barrels as announced on 13 January 2011, Chariot has continued to evaluate a number of other plays within its Northern and Southern licence areas.
In the Northern licence areas, blocks 1811 A & B, seismic data inversion and attribute analysis has led to identification of additional Late Cretaceous/Palaeogene fan systems exhibiting Amplitude Versus Offset ('AVO') anomalies consistent with hydrocarbon-filled sands. These overlie older Cretaceous structural closures and subsequently enhance the stacked target potential. In addition this work has further de-risked the Tapir and Tapir N prospects with the chance of success increasing from 14% to 23%.
Paul Welch, CEO of Chariot commented, 'This additional resource upgrade further increases the value contained within our asset portfolio. The amplitude anomalies identified and now quantified on the 3D seismic are encouraging regarding potential hydrocarbon fluid content. This has allowed us to significantly de-risk this area ahead of drilling. Our technical work continues and we anticipate further upgrades within our Southern licences once a similar exercise has been completed there.'