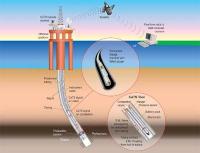 Expro has secured $10M of new contracts to supply its cableless telemetry system (CaTS™).
Expro's CaTS advanced reservoir testing (ART) service will be utilised by two operators in Brazil to provide high value, accurate and reliable pressure and temperature data from four suspended deepwater subsea exploration / appraisal wells.
In addition, the ART service will also be used by operators of two wells in the North Sea, with one well located west of Shetland with the other located in the Central North Sea.
CaTS is a revolutionary development in the field of reservoir monitoring and control that can be retrofitted into existing wells. The system transmits data to surface in real time using the well's casing or tubing as a conduit for the signal to transfer along.