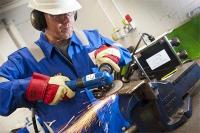 EnerMech has been awarded a pre-commissioning contract in the Democratic Republic of Congo and Gabon by Technip.
The workscope is for precommissioning services on the Congo Gabon Flexible Replacement Project (FRP), is estimated to be worth over $1.61 million (GBP 1 million) and is expected to last 12 months or more.
The Co-Ga FRP follows a review by Total, which identified the need to replace flexible lines and piping in Gabon's Anguille, Baudroie-Baliste, Torpille, Mandaros Barbier and Gonelle fields and in the Sendji, Yanga and Tchibouela fields in Congo.
The Aberdeen-based mechanical engineering group will perform gauge pigging on flexible flowlines post installation and topside hydrotesting services plus the dewatering of wet gas and gas lift flexible flowlines.