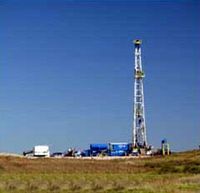 Sound Oil provides the following update on Citarum operations:
"The Jatayu-1 exploration well commenced drilling on February 15, 2012 towards a primary reservoir objective target depth of 7,382 feet. At 6,156 a drilling break occurred where the penetration rate increased from 16'/hour to 54'/hour over a 50' interval while drilling through sands, suggesting porous sands.
Associated with this drilling break was an influx of gas (18% mud gas, above a background 0.8%) into the well bore that required an increase in mud weight and 2-3 hours to circulate the gas out of the mud system. Shortly thereafter the pipe became stuck. The well is currently being plugged back to the 9 5/8" casing shoe at 4,736' and will be drilled vertically from this location to avoid the issues associated with the initial directional/deviated hole in a complex fold belt environment. It is believed this will largely mitigate the difficulties experienced to date.