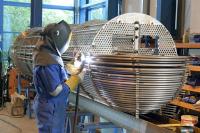 Oilfield services provider Glacier Energy Services has merged the three businesses which form its specialist services division.
Glacier's heat transfer equipment manufacturing and refurbishment companies Ross Offshore and MSL Heat Transfer, along with the onsite machining service arm of Roberts Machining Solutions, merge into one legal entity and will trade under the Glacier Energy Services banner from December 1.
Glacier will continue to offer non-destructive testing services through its subsidiary, Professional Testing Services, while Robert Machining Solutions will continue to be the product sales arm, selling specialist pipe cutting equipment to the global energy market.
Martin Kilmurry, who joined Glacier in September as managing director of its specialist services division, has led the integration of the businesses with the aim of improving the customer offering through bundled services and deploying multi-skilled teams onsite to deliver cost savings and other efficiencies.