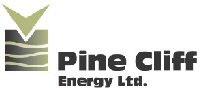 Pine Cliff Energy Ltd. has closed the previously announced acquisition of certain oil and natural gas assets in the Carrot Creek area in the Province of Alberta for cash consideration of $23.5 million. The effective date for the Acquisition is January 1, 2012.
The Acquisition was financed by: (i) a $15 million revolving demand credit facility with Alberta Treasury Branches (the "Credit Facility"); (ii) a $7 million short-term secured loan from a related party (the "Related Party Loan"); and (iii) Pine Cliff's working capital. The Credit Facility is secured against all of the assets of Pine Cliff and is subject to review on an annual basis. The Related Party Loan has a term of six months, is subordinated to the Credit Facility and bears interest at a rate of 5 percent per annum, payable monthly.
As previously disclosed, the Carrot Creek Assets have current estimated production of 950 barrels of oil equivalent (BOE) per day, of which approximately 23 percent consists of oil and natural gas liquids and 77 percent consists of natural gas. In addition to the producing assets, Pine Cliff will acquire 15.3 net sections of prospective land, some of which has current vertical production. Pine Cliff anticipates that this land has multi-zone potential which can be further exploited using horizontal drilling technology. Pine Cliff has also negotiated preferential pricing for processing a portion of its natural gas and liquids production at a gas plant owned and operated by the vendor of the Carrot Creek Assets.