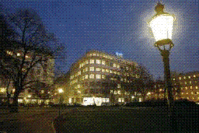 Following its acquisition of the Tunisian assets of Pioneer Natural Resources Ltd. on February 18, 2011, OMV, reports two important first results: The successful tie-in of OMV's first operated production well El-Badr-5 and the granting of the Durra production concession.
OMV successfully took over the operation of the Cherouq production concession on February 18, 2011 as part of the Pioneer acquisition. El-Badr-5, currently producing 1,500 boe/d (OMV stake 50%) is the first well that was tied into the Cherouq facilities under OMV.
Furthermore the Tunisian Minister of Industry and Technology granted the production rights to the 40 km² Durra concession to OMV Anaguid Ltd. (formerly Pioneer Natural Resources Anaguid Ltd.) and its partners Medco Tunisia Anaguid and ETAP. The rights to the concession have been granted for 30 years and will enable OMV to start producing from two fields from existing exploration discoveries in the Anaguid block. In order to accelerate production of the Mona and Durra fields, OMV will install temporary production facilities, which are expected to come into operation during the second quarter 2011.
Jaap Huijskes, member of the OMV Executive Board responsible for Exploration and Production (E&P), stated, 'The acquisition of the Pioneer assets in Tunisia has enabled us to meet our strategic objective to substantially increase our production and strengthen our presence in Tunisia. We look forward to further enhance synergy effects.'