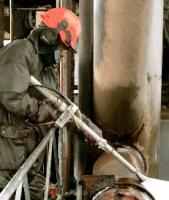 Hughes Pumps has recently built and supplied one of the most compact, highly specialist, high-pressure water jetting units ever produced, to a contractor working on subsea cleaning applications in the UK and Norwegian sectors of the North Sea.
With space offshore always at a premium, the design brief demanded a minimal weight and footprint. Hughes' unique combination of an integral gearbox and SAE adaptor housing on the HPS3000 pump enabled the pump to be flange mounted to the engine, making for an extremely compact installation. To reduce size even further, a heat exchanger cooled Volvo marine engine was chosen to power the pump. Marine engines use an on board pump to lift seawater as the cooling medium, eliminating the need for a radiator and cooling fan, considerably reducing the overall size and eliminating fan noise.
The system, comprising a 300 hp (225 kW) HPS3000 pump delivering performances from 20 gpm at 20,000 psi (74 lpm at 1400 bar) to 107 gpm at 4,200 psi (405 lpm at 290 bar), incorporates a Duplex stainless steel pumphead to provide maximum corrosion resistance when pumping sea water at high pressure; with all other wetted components, including the high capacity filter housing, manufactured in 316 stainless steel.
The pump set, packaged in a four-point lift, fully enclosed crash frame, manufactured in 316 stainless steel to ensure years of maintenance free operation in the harshest of offshore environments, is one of the most compact 300 hp units ever produced.