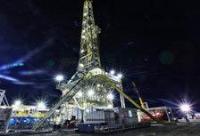 Serinus Energy Inc. advises that the Lukut Updip-1 (LKU-1) well in Brunei Block L flowed gas continuously from two separate intervals that have not previously been penetrated by any wells onshore Brunei. While the rates were estimated at less than 50 thousand cubic feet per day (Mcf/d), the discovery of hydrocarbons within these zones indicates that further analysis and appraisal will be required to evaluate the resource potential of this play.
Test 1 (2,131 - 2,137 metres)
The LKU-1 well encountered a drilling break and a significant influx of gas with a total gas reading of 47% whilst drilling 6" hole starting at a depth of approximately 2,131 metres measured depth (MD) (1,773 metres true vertical depth subsea (TVD)) and continuing to a depth of at 2,137 metres MD, the last 3 metres of which is interpreted to be clean sand.