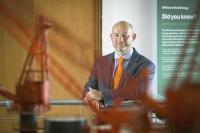 The Society of Petroleum Engineers (SPE) Aberdeen Section has appointed Ross Lowdon as Chairman. He takes over from Mr. Anthony Onukwu and will hold the chairmanship until September 2015.
Beginning his career as a hydrographic surveyor, Mr. Lowdon has more than twenty years' experience in the oil and gas industry and is currently the head of the surveying domain for Schlumberger Drilling & Measurement, globally.
He holds a degree in land economy from The University of Aberdeen and an MSc in Drilling and Well Engineering from Robert Gordon University.
Mr Lowdon said: "I am extremely privileged to have been selected by my peers as Chairman of the Aberdeen Section, particularly during this milestone year as we celebrate our 40th anniversary.