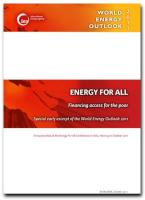 The WEO-2011 special excerpt, "Energy for all: Financing access for the poor" is now available. The special report, which tackles the critical issue of financing the delivery of universal modern energy access, was released today in a high-level international conference on financing energy access hosted by the government of Norway in co-operation with the IEA. The Conference was attended by UN Secretary-General Ban Ki-moon, IEA Executive Director Maria van der Hoeven, Heads of State and Ministers, as well as private sector and civil society organisations.
"Tackling the issue of modern energy access is crucial if the global community wants to achieve its goals of eradicating poverty and accelerating social and economic development. The United Nations 'International Year of Sustainable Energy for All' in 2012 is an excellent opportunity to agree rapid collective action. A target of universal modern energy access by 2030 is achievable and, as shown in this report, has only a small impact on global energy demand and carbon emissions." says IEA Chief Economist, Dr. Fatih Birol.
This special report will be included in the WEO-2011, which will provide updated projections of energy demand, production, trade and investment, fuel-by-fuel and region-by-region to 2035.
WEO-2011 also provides in-depth analysis of several topical issues, including: the outlook for Russia's energy market and what it means for the global energy system; climate change - with an assessment of what infrastructure "lock-in" means for manoeuvrability to meet the 2 degrees Celsius goal; the role that coal will play in driving economic growth in an emissions-constrained world; and the implications of a possible delay in oil and gas sector investment in the Middle East and North Africa.
The report may be downloaded from the IEA website: http://www.worldenergyoutlook.org/development.asp