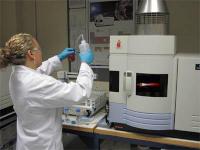 Methodology developed for the oil industry by leading international oilfield services company Expro has helped a Formula One team 'gear up' for the new season.
Expro provided technical support to the Formula One team, Marussia Virgin Racing, for pre-season testing in Spain.
Marussia Virgin Racing, which launched its newly developed MVR-02 car this year, invited Expro's Analytical Data Services (ADS) team to help with installation of analytical testing equipment (supplied by Perkin Elmer) and method development to check gearbox wear through the analysis of oil samples by inductively coupled plasma optical emission spectroscopy (ICP-OES).
Changes to the Formula One rules this season means gearboxes need to last much longer than previously required, therefore it is critical to understand the gearbox's condition and know when to change it to avoid incurring starting grid position penalties.
Expro ADS, which specialises in the analysis of samples in difficult matrices, helped develop trackside methodology in Jerez and Barcelona to achieve results that indicate gearbox wear within minutes of sampling.
Bill Smith, Expro's fluids product line director, said: "We are delighted to be involved in such an exciting project and this is first time we have worked trackside with a Formula One team.
"The support provided by the team involved 14 hour days in heat, noise and the pressurised environment of the backroom garage, which underpins the glamorous front end so familiar to the enthusiastic supporters of Formula One. We wish Marussia Virgin Racing the best of luck for this season."