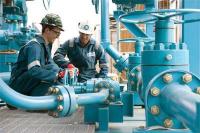 Expro is presenting its latest technologies, which enable it to offer the complete package of solutions across the entire well lifecycle, at OTC Brasil, October 4-6, Rio de Janeiro (booth #925).
Accessing reserves beyond limits
Expro's market-leading deepwater technologies demonstrate the company's dedication to innovation in pushing the boundries in deepwater developments. These include Expro's subsea safety systems, products in the company's Connectors and Measurements marketing stream and its innovative AX-S subsea intervention system.
AX-S enhances hydrocarbon production through the well life cycle by providing cost-effective, riser-less intervention to deepwater wells in up to 10,000ft of water. The system is part of Expro's vision to deliver a full range of wireline intervention services in deepwater wells at less than a third of the cost of deploying a rig, and to provide an effective life of field solution. With approximately 5,000 subsea wells globally, and a further 500 subsea wells a year coming onstream, Expro has identified a significant and growing market for the AX-S system. A model of AX-S will be on the company's booth.
Expro's range of landing string assemblies and subsea control systems minimise risk in subsea completion and intervention operations and achieve secure well status in the event of an emergency.
The latest developments in the company's leading Tronic subsea connection system range, providing reliability and efficiency in deepwater environments will also be on display.
Expro Connectors & Measurements marketing stream is showcasing its enhanced, next generation of DigiTRON connectors and its recently launched DigiTRON+ and DigiTRONe, which are recognised as the most technically advanced and reliable subsea connectors on the market.
Exploration and appraisal well testing
One of the largest well testing companies in the world, Expro offers a full range of solutions across the exploration and appraisal of a well. Its enhanced drill stem testing (DST) capability provides customers with the complete package of technology and specialist data services from reservoir to disposal, including tubing conveyed perforating, data acquisition, surface read-out through cableless telemetry, fluids sampling and analysis, compact well testing solutions and enhanced flow measurement. A well testing model is on the Expro stand.
Expro's meters offer round the clock well head surveillance using the company's non-intrusive clamp on sonar-based metering technology (ActiveSONAR and PassiveSONAR). An ActiveSONAR demo meter is on display, offering real-time information and enabling visitors to see the meter in action.
Wireline intervention
The company's range of cameras, calipers and logging tools will be presented, demonstrating Expro's global wireline intervention capabilities and its ability to offer the complete package, including BOP and riser inspection services.
Expro's chief executive officer Charles Woodburn said: "Our presence at OTC Brasil will demonstrate our continued investment in developing new technologies to meet both our customers' and industry's needs.
"We see Brazil as a key area for our new technology particularly in deepwater. The time and dedication we have invested in AX-S to deliver a completely new solution to the issue of deepwater intervention highlights our commitment. We have some extremely exciting news on this system and we are looking forward to sharing it at the inaugural show in Rio de Janeiro.
"With a firm focus on safety and quality, OTC Brasil provides us with a fantastic opportunity to showcase how we continue to enhance our portfolio to position Expro as a global provider of solutions from exploration and appraisal through to abandonment."