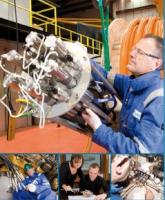 Aberdeen-based Hydrasun Ltd, a specialist provider of integrated fluid transfer, power and control solutions, has announced that it has won the Northern Star Business Award for Achievement in International Business.
The award, which is in recognition of the company that has been the most successful in growing its international business value and market share, was received at the Aberdeen and Grampian Chamber of Commerce annual Northern Star Business Awards Dinner on October 6 2011 at the AECC in Aberdeen.
Bob Drummond, Chief Executive of Hydrasun, said: "We are very proud to have won this award, especially when you consider the high calibre of finalists we were up against. Hydrasun has seen significant growth in its international sales over the last three years and the further internationalisation of the business is a key element of our future growth strategy.
"We currently export to more than 50 countries and have international operational bases established in Azerbaijan, Kazakhstan, Brazil and The Netherlands as well as a further presence in West Africa, US Gulf of Mexico and the Middle East."
Established in the UK in 1976, Hydrasun has built a reputation for excellence through the provision of bespoke fluid transfer and process control solutions to the oil and gas, petrochemical, marine and defence industries worldwide. It has grown in scope to offer clients subsea product and service solutions on an international scale whilst fulfilling specific needs including speed of response, safety, service, quality, technical integrity, reliability, environmental protection and value for money.
Hydrasun relocated to £12-million headquarters in Aberdeen earlier this year after experiencing major growth in the North Sea and internationally. The company has around 500 employees, including 400 in Aberdeen.