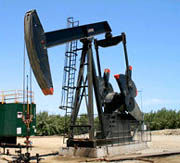 David Dyck, President and Chief Operating Officer of Ivanhoe Energy Inc. says that probable (2P) and probable plus possible (3P) reserves have been recognized for the Tamarack Project located in the Athabasca region of northern Alberta. The reclassification to 2P and 3P reserves is a result of the successful completion of Ivanhoe Energy's 2010 core hole drilling program on the Tamarack lands, further technical evaluation, and the submission of its regulatory application to the Government of Alberta in November 2010.
GLJ Petroleum Consultants of Calgary (GLJ) has assigned estimated probable plus possible bitumen reserves of 220 million barrels and probable bitumen reserves of 176 million barrels to Tamarack. Along with the reserves additions, the independent 2010 evaluation recognized 345 million barrels of best estimate contingent resource. Ivanhoe Energy holds a 100% working interest in this Project which is expected to produce at approximately 40,000 barrels per day for at least 30 years.
'On the heels of the submission of our regulatory application for the Tamarack Project, we've reached another milestone with the reclassification of a significant portion of contingent resources to the reserves category,' said Mr. Dyck.
'We added 176 million barrels of 2P probable reserves and, on a combined basis, the 2P reserves plus best estimate contingent resource rose 18% compared to our previous report. This significant increase validates our view that Tamarack is a world class heavy oil project that will ultimately provide significant value to our shareholders as we move forward with development and production.'