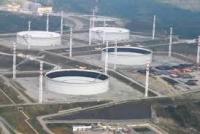 Acting Krasnodar Krai Governor Veniamin Kondratiev, during his business tour of the Kavkazskiy District on 16 July, visited the Kropotkin Pump Station, one of CPC's most significant brownfield facilities in the region. He looked around the pump station site, including a mainline pump house and a tank farm, and talked to some pump station personnel.
The Kropotkin pump station is CPC's largest pump station in Russia, not only moving crude oil along the pipeline but also receiving injections from Russian producers. It was upgraded as part of the Expansion Project in April 2014.
During a meeting after his trip to the Kavkazskiy District, Veniamin Kondratiev commented on many years of cooperation between the region and Caspian Pipeline Consortium, who is one of the largest tax payers in the district, and gave special thanks to the company for helping to implement community related projects.
CPC pipeline system is one of the largest investment projects in the energy industry with participation of foreign capital on the CIS territory. The length of the pipeline connecting the oil fields in Western Kazakhstan with the Marine Terminal near Novorossiysk is 1,511 km. CPC Marine Terminal is equipped with single point moorings which allow for safe tanker lifting at a considerable distance from the shore, also when the weather conditions are unfavorable.