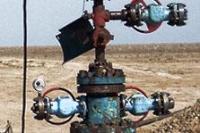 Roxi is pleased to further update the market with news of progress at its flagship BNG asset.
Deep Well A5
The well was spudded in July 2013 and drilled to a total depth of 4,442 meters with casing set to a depth of 4,077 meters to allow open hole testing. Core sampling revealed the existence of a gross oil-bearing interval of at least 105 meters from 4,332 meters to at least 4,437 meters.
As announced on 30 June 2015, the equipment required for the open hole 30-day test was on site and the test was set to start following the completion of the required preparatory work. Part of the preparatory work involves checking and testing then new pipes. The pipes received did not pass the on-site inspection and replacement pipes have been ordered from a different supplier.
To utilise the drilling crew while replacement pipes are sourced work was undertaken to remove the pipe stuck at the bottom of the well. This process was unsuccessful and a decision to side-track the well from a depth of 4,000 meters has been taken.
This work is expected to take 1 month to complete. Following the completion of the sidetrack casing will be set to the full depth of the well, which will allow a conventional a 90-day well test to commence at the end of Q3 2015.
Deep Well 801
Deep Well 801 was spudded on 15 December 2014 with a planned Total Depth of 4,950 meters. The well is located approximately 8 kilometers from Deep Well A5 and was planned to target the same structure as Deep Well A5 in the Middle and Lower Carboniferous. The well is being drilled by Sinopec, the Chinese multinational, at a fixed cost of $11 million.
As previously reported core samples and logging have revealed a potentially oil bearing interval starting from 4,536 meters and extending 100 meters. The pressure and temperatures encountered indicate this well is unlikely to be connected to the reservoir targeted by Deep Well A5. Therefore should Deep Well 801 prove commercially viable it would be a separate discovery to the potential discovery previously announced in connection with Deep Well A5.
On 30 June 2015, it was announced that casing had been set to a level of 4,790 meters and drilling had resumed to a new planned total depth of 5,100 meters targeting Lower Permian and Middle & Lower Carboniferous oil bearing reservoirs.
The well has now been successfully drilled to a total depth of 5,050 meters, into Lower Carboniferous. The lower part of the well will now be cased, and the well logs for the final 260 meters drilled are being examined to detect any additional oil-bearing intervals.