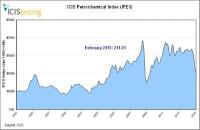 Petrochemical markets in Asia have reacted swiftly to recent rising crude oil and naphtha prices but European and US markets are still feeding through the sharp crude price downturn of the past six months, ICIS data showed on Monday.
The ICIS Petrochemical Index (IPEX), which represents a capacity-weighted basket of 12 primary petrochemical products, fell 1.5% in February from January 2015*. The index is down 37% from February 2014 and 36% lower than in August 2014 when crude oil prices began to fall dramatically.
The average Brent crude price was $58.16/bbl in February 2015 down from the $109.89/bbl average in February 2014. WTI crude was $50.72/bbl in February from $100.75 the year before on the same basis.
Crude prices began to drop in August last year and have prompted steep falls in the price of the petrochemical industry's primary liquid feedstock, naphtha. The rally in crude prices, however, which began at the end of January 2015 has yet to feed fully in to prices for the major petrochemicals given the time lag for costs to pass along the primary petrochemical product chains.