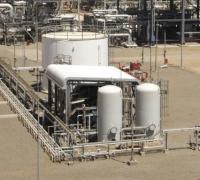 Prices of spot liquefied natural gas (LNG) to northeast Asia averaged $7.395 per million British thermal units (/MMBtu) for August, according to latest Platts Japan/Korea Marker (Platts JKM) data for month-ahead delivery.
The figure reflects the daily JKM assessment published by Platts, a leading global energy, petrochemicals and metals information provider and a premier source of benchmark price references, between June 16 and July 15, expressed as a monthly average.
The marker slid 2.7% month over month, with demand from end-users in northeast Asia extremely slow, despite the fact that August is traditionally the peak month of the summer buying season due to increased power generation.
'A slew of supply tenders from liquefaction projects in Asia largely capped the potential gains on the JKM early in the month,' said Stephanie Wilson, managing editor of Asia LNG at Platts. 'But traders and suppliers with short positions absorbed the bulk of these volumes.'
The August JKM opened the trading month at $7.20/MMBtu, the lowest level seen for August since 2010, before making the bulk of its 50 cent gain in the second half of the assessment period. This was largely driven by interest to either optimize or backfill short positions from traders and suppliers. This pushed the marker to close at $7.70.