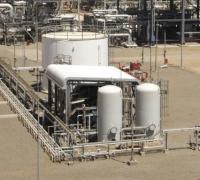 Prices of spot liquefied natural gas (LNG) to northeast Asia for May delivery remained under pressure, falling 52.6% year over year to average $7.380 per million British thermal units (/MMBtu), according to latest Platts Japan/Korea Marker (Platts JKM™) data for month-ahead delivery.
The figure reflects the daily JKM assessed published by Platts, a leading global energy, petrochemicals and metals information provider and a premier source of benchmark price references, between March 16 and April 15 expressed as a monthly average.
Despite the steep year-over-year decline, the average May JKM showed an increase of 1.4% from April's $7.279/MMBtu – the first gain in month-over-month average prices since November. This suggested that the JKM could have bottomed following a steady downtrend, as the marker lost more than 30% since the start of the calendar year.
"The U.K. National Balancing Point (NBP) onshore gas market is seen to be providing a floor to Asian spot prices," said Stephanie Wilson, managing editor of Asia LNG at Platts. "Sellers with offtake in the Atlantic continue to deliver those cargoes into European markets around $6-7/MMBtu DES and backfill requirements in the Asia Pacific basin with spot cargoes. JKM could continue to mirror movements in the NBP until the arbitrage opportunity between the two basins opens again."
Rising NBP values had been cited as a key bullish factor on JKM for April- and early May-delivery. But as the NBP weakened, the JKM also fell almost 8%, or $0.65, to $6.975/MMBtu by the end of the assessment period. Near the beginning of the assessment period, the spread between the JKM and NBP had been as wide as $1.24/MMBtu, effectively opening an arbitrage opportunity, before narrowing to $0.21 on April 15.