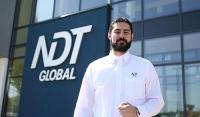 NDT Global, a supplier of ultrasonic pipeline inspection and data analysis services, has produced a new video explaining its Enhanced Sizing methodology for ultrasonic crack inspections.
Join Rogelio Guajardo R., Global Manager, UC Data Analysis, as he explains the research, development and execution of the enhancement the company brought to the market earlier this year. The capability removed a previously existing depth sizing threshold that existed for depths greater than 4 mm for UT crack inspections. This breakthrough is the first major improvement in crack inspection since the introduction of absolute depth sizing more than 5 years ago.
NDT Global's team of experts conceptualised Enhanced Sizing when investigating additional, previously unconsidered, reflections. The on-site testing capabilities enabled the team to replicate these reflections, helping them better understand the relationship between such reflections and the depth of the features, all performed in line with API 1163.