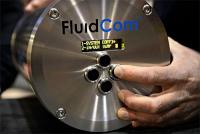 TechInvent AS has announced that Yokogawa Electric Corporation has acquired 100% of the company and the unique FluidCom™ Technology – the ONS 2016 Innovation Award (SME) Winner.
To obtain a controlled and efficient use of production chemicals and to optimise the oil and gas production, one of the measures is to ensure reliable and accurate chemical dosage. The FluidCom™ is a fully automatic chemical injection controller that by its unique patent technology is considered as a worldwide game changer enables significant capex and opex savings for the users. Following achievement as Proven Technology in 2016, the FluidCom™ has been the preferred choice by multiple Oil Companies in both Greenfield and Brownfield projects.
Commenting on the acquisition, Alf Egil Stensen, CEO of TechInvent and Inventor of the FluidCom™ says, "We find it as a fantastic opportunity now being part of a very strong well-known worldwide industrial organisation. This brings forward our technology and ability to continue serving our highly valued customers on a worldwide basis. We will continue to grow our operation out of Stavanger as being Yokogawa Center of Excellence for Chemical Injection, and further develop the FluidCom product line to expand the range of value added solutions and enable delivery in new ways to our worldwide customers."
Alf Egil Stensen will continue as CEO and Preben Jørgensen as BDD of the company, now a part of Yokagawa.
Commenting on the acquisition of TechInvent, Shigeyoshi Uehara, head of Yokogawa's IA Products and Service Business Headquarters in Tokyo, says, "FluidCom technology will improve flow assurance, which is a key concern of our customers in the oil and gas industry, and it will make a major contribution to their operations by helping them not only improve production efficiency and reduce operational costs, but also enhance HSE. The combination of FluidCom, KBC's simulation technology, and Yokogawa field devices will allow us to expand the range of our upstream and midstream solutions and enable the delivery of value in new ways to our customers."