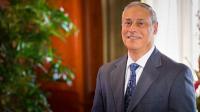 National Oilwell Varco, Inc. has announced that Isaac H. Joseph has been promoted to President, Wellbore Technologies.
Clay C. Williams, Chairman, President and CEO of National Oilwell Varco, states, "With 25 years of experience within NOV and legacy companies and over 36 years of experience in the industry, Isaac brings a tremendous level of leadership and valuable expertise to NOV's Wellbore Technologies segment."
Mr Joseph began his career in the oilfield services industry with Tennessee Gas Pipeline in 1980. From 1982 to 1995, he had various sales, operations and sales management roles for Plastic Applicators and Tuboscope Vetco International. In 1995, Mr. Joseph joined ICO Worldwide as the Regional Operations Manager for the Gulf Coast. He was later promoted to Senior Vice President of Sales and relocated to Houston, Texas. In 1998, Mr Joseph was promoted to President of ICO Worldwide. In 2002, ICO Worldwide, Inc. was acquired by Varco and Mr Joseph was named Vice President of the Western Hemisphere for Tuboscope.
Following the merger between National-Oilwell and Varco in 2005, Mr Joseph was named President of NOV Tuboscope, where he led a global team of more than 6,500 employees. Mr. Joseph graduated from the University of Southwestern Louisiana, obtaining a Bachelor's degree in Business Management.