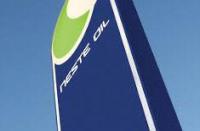 Neste Oil is planning to initiate a major development program to rationalize its operations. Investments totaling approx. EUR 500 million are to be made in growth and optimizing production at the company's Porvoo and Naantali refineries in Finland.
The plan is to closely integrate refinery operations at Porvoo and Naantali to achieve better operational and cost efficiency. Some operations will be shut down or outsourced. The impact of these changes, together with changes that have already been implemented, are expected to reduce Neste Oil's labor requirement by approx. 250 employees, primarily in Finland.
"The investments that we're planning, when completed, will help us reach our long-term profitability target," says Neste Oil's President & CEO, Matti Lievonen. "We intend building an SDA (solvent de-asphalting) unit at Porvoo costing EUR 200 million and implementing process enhancement investments valued at EUR 60 million at Naantali, as internal projects. The EUR 250 million power plant investment planned for Porvoo will be carried out through an off-balance sheet joint venture."