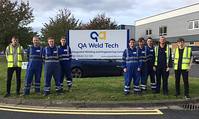 A Middlesbrough provider of integrated welding and engineering solutions – QA Weld Tech – adds to its team of fully qualified and experienced engineers with its largest intake of apprentices since the company was established over 35 years ago.
Based at the Riverside Park Industrial Estate, the firm will deliver its quality apprenticeship programme across multiple disciplines to the five recent appointments, as it recognises the importance of training and developing the skillset of young people in the industry.
Speaking about the appointment of the new apprentices, Dave Pickles, Operations Director at QA Weld Tech says, "We pride ourselves in the fact that we can offer everyone that comes through our doors the opportunity to progress within the company, joining our team of passionate industry professionals. By implementing training in all disciplines and offering quality apprenticeship programmes, we can overcome the challenges faced in the industry of an ageing workforce. Through engaging with young enthusiastic people, keen to develop a career in the field, we can bridge the skills gap continuing to move forward and successfully compete in international markets."
Apprentices to join the team include Kieran Reynard and Will Helm who will be specialising in welding, Jordan Walton, a CNC Machinist apprentice, Harrison Olive, who is training in Supply Chain Management and Lewis Hunter, a Quality Technician apprentice. This adds to company's four existing second year multi-discipline apprentices.
Having forged close relationships with local colleges, the apprentices join the team from both Hartlepool and Middlesbrough College. The apprentices will gain first-hand experience, whilst receiving mentoring, support and guidance with educational studies from the experienced team at QA Weld Tech.
And the company possesses a long-standing track record of retaining its apprentices and progressing them through the ranks. This is spotlighted by the company's first ever apprentice – Peter Harrison – who started at QA Weld Tech over 35 years ago. Harrison is now a Senior Welding Engineer managing a team of Welding Technicians, consisting of all former apprentices. As such, Peter and his team have overseen the development of over 700 weld procedures, covering a range of materials from carbon steels, through Super Duplexes to high performance alloys.
Speaking about the apprenticeship programme, Harrison says, "It's a real testament to QA Weld Tech's policy of ongoing training that so many of our apprentices, including myself, choose to stay with the company for many years. I feel privileged that I can train the next generation of apprentices and watch them continue to develop their skills and knowledge whilst growing with the business."
The company has recently introduced a new training programme that has provided valuable expertise in a number of core units such as; health and safety, solution implementation and data analysis and problem solving.
Working with difficult materials and engineering innovative solutions, the company is well recognised within the industry for its dynamic capabilities and ability to solve complex problems, working on projects alongside major companies across the globe including; BP, Total, Shell and GE.