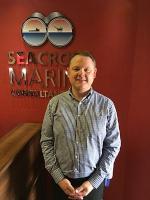 Aberdeen-based maritime specialist has appointed a new engineering manager as it looks to develop more specialised offshore marine projects.
Seacroft Marine Consultants has appointed Richard Pearce to the role of Marine Engineering and Dynamic Positioning (DP) Manager.
Pearce has sixteen years' experience in engineering and technical disciplines of the marine and offshore industry, including spells at some of the sector's most prominent names.
Most recently he was technical manager at Fletcher Group and service delivery manager at Bibby Offshore in Aberdeen and was responsible for the safe and reliable operation of the company's offshore support vessels. Pearce has also served in seagoing engineering positions and been technical superintendent and technical manager with major offshore vessel operators.
Michael Cowlam, Seacroft's technical director, says, "We're delighted to welcome Richard to the Seacroft team. He brings a wealth of valuable industry experience and in particular, knowledge of Dynamic Positioning systems which complements our very capable marine consultancy team here in Aberdeen. His extensive experience of the sector, along with his vast engineering knowledge will be a tremendous asset as we look to develop our capabilities in more technically challenging offshore marine projects in the North Sea and further afield."
Pearce says, "I'm looking forward to playing my part in Seacroft's future success in what is an interesting time in the marine and offshore industry, where there are many opportunities for Seacroft to embrace. My aim is to enhance and expand the company's in-house marine and dynamic positioning technical competencies using the knowledge and experience I've gained whilst working for vessel owners and operators in the offshore industry."